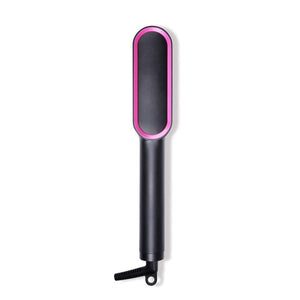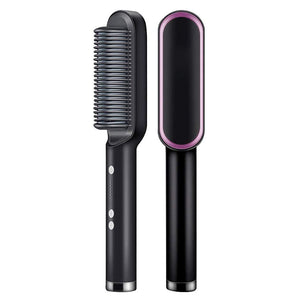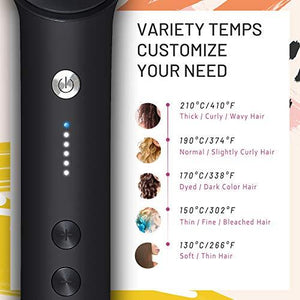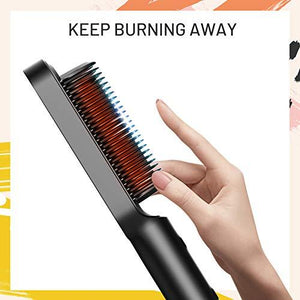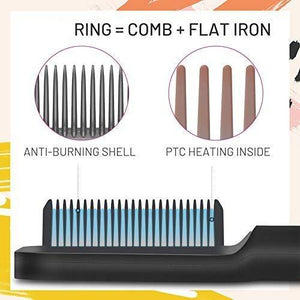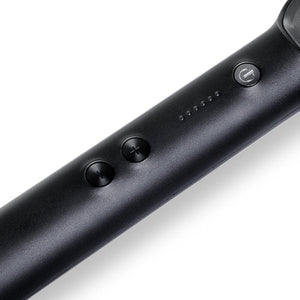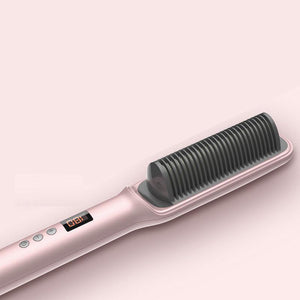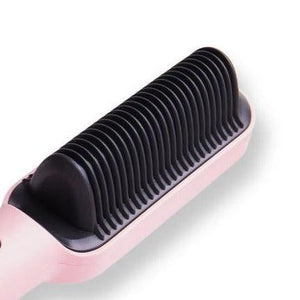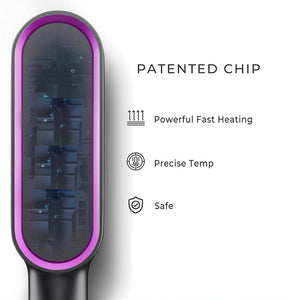 Nice quality and great price.Highly recommend! Worth it .
I literally snatched this from the deliver guy's hands. This tool is so amazing! It did what it said it would don'it has four different heat settings and it comes with 2 hair clips, a glove, and a small egg shape brush. The hair must be completely dry to use. I have 4 c, d, e, f, g hair and it took a couple of swipes and it was straightn'no frizzy at all! It is so easy to use and very safe. I can now get rid of my flat irons and my straightening comb! In so glad I bought thisn'it's a godsend and I can control how my hair looks now!
Even though the reviews are mostly positive, I was skeptical with buying it. TBH I'm skeptical w/anything that consists of spending any amount of my money. I'm so glad that I found it. I ordered it on 5/3. It arrived on 5/6 & I just used it for the 1st time today 5/10. As you can see, it really does straighten. Now, I don't have the thickest of hair, but it literally straightened it as if I relaxed it & im not sure if it worked well b/c of my hair being on the more thin side. It's lightweight & easy to hold & it came packaged really nice. The few things I dont like is that while holding it to process through my hair...my hand kept pressing the buttons on the handle causing it to either turn off or down in temp. Also that it doesn't tell you the actual temp. You pretty much have to figure out what works best for your hair. I'm not sure what my hair type is, but b/c its finner, I used the temp on the 3-4 blue light & I also like that the sides of the "brush" don't get hot. I cant wait to use this on my daughters head b/c her hair is actually thick. I'd definitely recommend.
I am so happy about this comb. I have natural VERY kinky coily hair. If I went to a salon, I would risk "paying" for heat damage from a stylist who is blasting my hair with temperatures I don't even cook with! The hottest this comb will go is 410 degrees...which is perfect - since anything above that is risky. I only needed to do one pass when using small pre-detangled sections. I used a hot brush to "blow-out" my hair at a very low temperature. Then I used this comb to straighten. I love the results so much better than the flat iron, since it feels like the flat iron is cooking the hair, sometimes makes it feel crunchy, and multiple passes are often needed. With this comb, no flat iron comb/brush chase method is needed. The hair is very soft, light, and straight. I will share this product with everyone I know.Tips:1. Just use small sections. I divided my hair into 4 quadrants and within each quadrant, parted a small section of hair. That will prevent pulling, "detangling", and breakage with the hot comb. If unsure the hair is fully detangled, use a Denman brush on that small section just before you use the hot comb.2. Blow dry your hair prior to using the comb for the DIY silk press, as it will detangle and prep the hair for a smoother longer lasting finish.3. Use a VERY light heat protectant to coat the hair. Too much protectant creates sticky and greasy hair. It also gives people a false sense of protection, as they think the more protectant they use, the more heat they can apply. We can still get heat damage with heat protectant. If we use less, we are more aware of how much heat we are applying (as per a Cosmetologist Instructor). This will also minimize the grime and soot that can accumulate in the comb.4. Hair should NOT be wet or damp. This is where "smoking" and "cooking" occur. If using a water-based heat protectant, let the hair dry a bit before applying the comb.5. Pass through that small section at a slower pace - but not too slow. One slow pass is better than 5 fast passes.
I have 4c very very thick natural hair. I don't take very good care of it either. I wanted to try this because I keep seeing it on feed. I am truly amazed and happy with the results. My hair is soft , shiny and bone silky straight. I feel like I went to a salon. The only con about this product is the glove and temperature control. I did not know if I was on the correct temp for my hair... but it worked. I have huge hands. This glove may not make it. OVERALL A GREAT BUY...SO WORTH THE MONEY!